When I visited 'Bharatpur Bird Sanctuary' in the month of December last year, I noticed people running to see and take pictures of two birds more sincerely than others. These birds were Sarus Crane and Painted Stork. Interestingly, birds like Common coot and Northern Shoveler, which migrate during winters, did not catch much attention. Perhaps because they are found in good numbers everywhere. In the words of a fellow birding enthusiast- 'Common coot to coot coot ke bhari hai yaha' (This place is stuffed with Common Coots).
While both Sarus Crane and Painted Stork attract attention due to their big size, Painted Stork is particularly liked by birders for its colorful feathers. Sarus Crane, at the same time, is famous for its red head and upper neck; it is also considered as the tallest flying bird.
Both Sarus Crane and Painted Stork prefer shallow wetlands and are capable of living along with human settlements. It is for this reason I am writing this post. When birds live nearby the agricultural fields cultivated by humans, they become habitual to human presence. This ease to have humans around is the perfect setting any birding fan would prefer. Of course, you cannot go and touch these birds but can watch and take their pictures from a fairly close distance.
In this article, I am going to tell you about three of these bird sanctuaries near Delhi/NCR region where you can see birds alongside human settlements. These wetlands offer you chances to see both local as well as migratory birds.
Natural Bird Sanctuaries near Delhi
I am calling these 'Natural' Bird Sanctuaries because these are not protected by any public authority. These are open wetlands surrounded by villages and agricultural fields.
#1 Dighal Wetlands, Jhajjhar, Haryana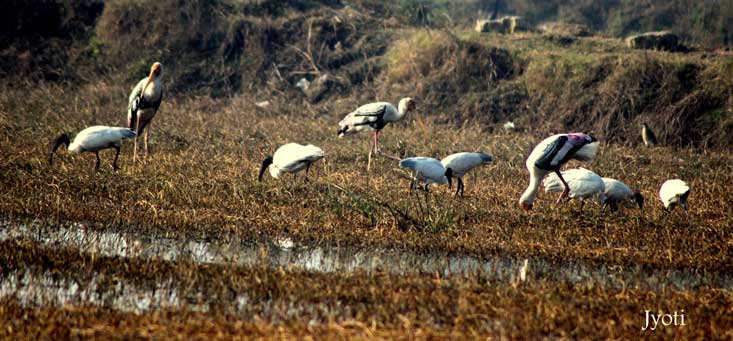 We started from East Delhi early morning and reached Dighal in about two hours. Right after we crossed the urban settlements and entered the agricultural area, we were warmly welcomed by Kingfishers, Drongos, Bulbuls, and Sparrows in huge numbers. These were just sitting on every tree and electricity wire. Moreover, clean fresh air and flowering mustard fields added to the charm.
There's no 'one' wetland but you will find birds in every small and big water body in and around Dighal. This was my first visit to open wetlands and I was pleasantly surprised to see many varieties of birds in one sight. On the left side of the road, there were painted storks, Black-headed Ibises, Glossy Ibises, Spoonbills, and Black-winged Stilts. On the right side, I saw many Pond Herons, Intermediate Egrets, Greater Coucal, and Doves. For the fact that these birds were habitual of human presence, I could go closer and take their pictures better than earlier.
When we moved a bit ahead, we saw a pond full of Northern Shovelers, Northern Pintails, Indian Cormorants and Common Coots. We could also sight little Grebe, Purple Heron, and Common Teal, although less in numbers. Moving a little further, we saw another pond full of Bar-headed Geese. It was such a wonderful sight that we could not resist stopping the car to spend few minutes with those chatty birds. We also spotted many Avocets and Godwits on our way. This was the first time I could see these birds from so close. I was overwhelmed by this very fact 🙂
#2 Basai Wetlands, Gurugram, Haryana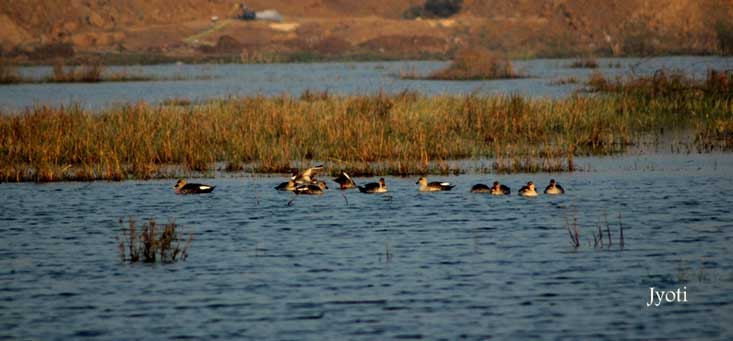 I have been a member of many birders' groups on Facebook where people post pictures, videos, and experiences related to birds, nature and the like. One fine day, I saw someone posting a bird's picture taken at Basai Wetlands. By this time, I was still under the influence of Dighal and immediately planned my trip to Basai. The good thing about all these locations is that these are in the vicinity of Delhi and you can anytime plan a day or even a half day trip.
Three fellow bird enthusiasts joined us and it looked like a real birding mission. When we reached Basai we were not very sure of getting to see birds because a lot of construction was going on around the area. However, as we moved in we saw wetlands on two sides of a mud road. Grey-headed Swamphen (or Purple Swamphen), Ibises and Spot-billed Ducks were the first few birds we saw.
Like other places, this wetland was also full of Common Coots. Apart from other familiar and local birds, I saw Pied Kingfisher, Citrine Wagtail, Common Hoopoe, and Asian Pied Starling for the first time. It was a good site and time to see Herons' (both Pond and Purple) feeding behavior; they were busy catching and eating fish. Moreover, we could also observe Ibises' flight in groups along with a pair of flying Sarus Crane.
#3 Dhanauri Wetlands, Thasrana, Uttar Pradesh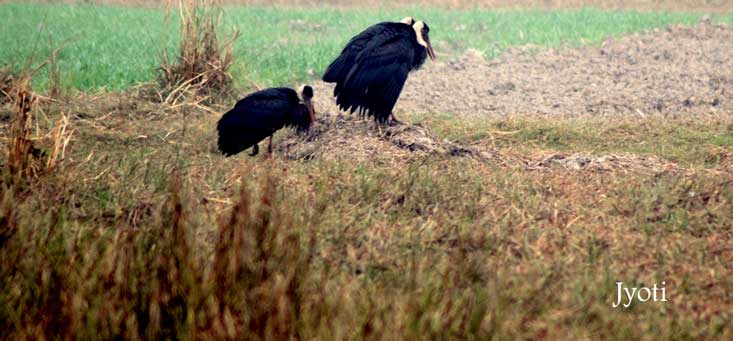 During our Dighal trip, another birder suggested us to visit Dhanauri located a little ahead of Greater Noida. I also saw an online picture of Sarus Crane dancing in the fields at Dhanauri. We had not yet got any chance to see Sarus crane from close; therefore, we planned a half day trip to Dhanauri. It is around 28 km away from Greater Noida.
Dhanauri wetlands constitute primarily two sides of wetlands alongside the cultivated agricultural land. The first thing we saw in these wetlands was a pair of Sarus Crane. We could go considerably close to them and notice their behavior and calls. Later we saw at least two more pairs of them. The place was full of Painted Storks, Herons, Ibises, Cormorants and many migratory birds (like Greylag Goose, Common Coot, Common Pochard and Northern Shoveler). At this place, Bronze-winged Jacana, Grey-backed Shrike, Woolly-necked Stork, and Water Rail too caught our attention.
Our journey with birds is still new and we make friends with at least four to five new varieties of birds every time we visit a bird sanctuary. We clicked pictures of all these birds in their natural habitat. Although it was a foggy day and we had to wait for the sun, we were happy with the details. Eventually, in the presence of a few sporadic sun rays, we were able to get somewhat clearer pictures.
Birding Sarus Crane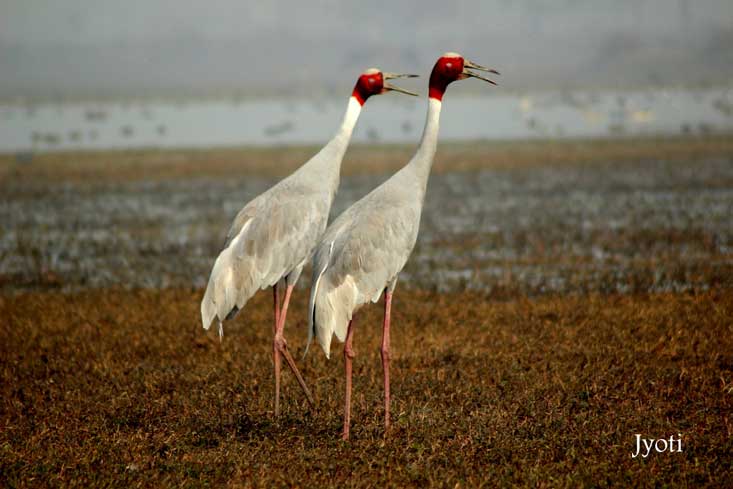 Apart from its physical characteristics, Sarus Crane caught our attention because of the example it presents of 'companionship'. You would see these sensitive birds mostly in pairs; eating, calling, dancing or hanging around, they are always together. During our trips of many bird sanctuaries this winter, we could see Sarus Crane at quite a few places namely Bharatpur (Rajasthan), Sultanpur (Haryana), Basai (Haryana), and Dhanauri (Uttar Pradesh), and it was the later where we could see Sarus crane from close to the extent that we could click and observe them.
Birding Painted Stork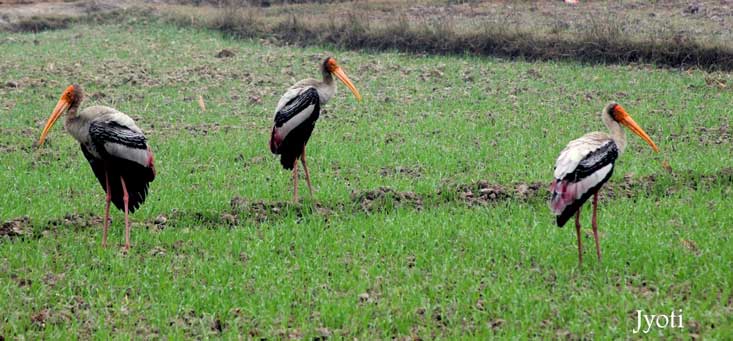 Painted storks are abundantly available in many places like Dighal, Dhanauri, and Sultanpur. While you can watch them form close at the first two places, there is a stock full of Painted Storks (both adults and juveniles) at Sultanpur Bird Sanctuary, this winter. Be ready to get mesmerized by looking at them resting and flying solo and in flocks.
Nearby Bird Sanctuaries
It is a good idea to club your visits to these three wetlands along with other bird sanctuaries.
Bhindawas Bird Sanctuary is situated around 36 km from Dighal. It's a nice huge piece of land (both dry and wet) with no constructed boundaries or tickets. It is a natural set up where you can see many birds in abundance. Since it's a huge area you may need to use binoculars to get access to far floating/flying/resting birds.
Likewise, Basai Wetlands are very close to Sultanpur Bird Sanctuary in Gurugram. Visit to this sanctuary is a must while visiting Basai wetlands. There's a continuing effort made by the authorities to make the bird sanctuary a place for better birding experience. New sites are created and earth roads are constructed to bring birds close to your reach.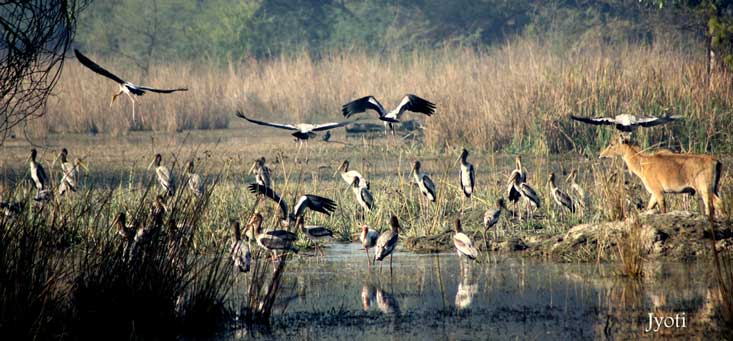 You can club your visit to Dhanauri wetlands with Surajpur Bird Sanctuary. It is situated at Greater Noida and hosts many Asian Antelopes along with various varieties of birds. Common Teal, Northern Shoveler, Black-winged Stilt, Grey-headed Swamphen, Bar-headed Goose, Common Coot, Greylag Goose, Northern Pintail, Pochard, and Black-tailed Godwits were in good numbers at this sanctuary. Apart from birds, this sanctuary also provides you a good trek of about three km, away from urban hassle and noise. I was told that one has to take special permission to visit this place but we could enter inside with no such letters or tickets on 26th Jan this year. In fact, the sanctuary was full of visitors.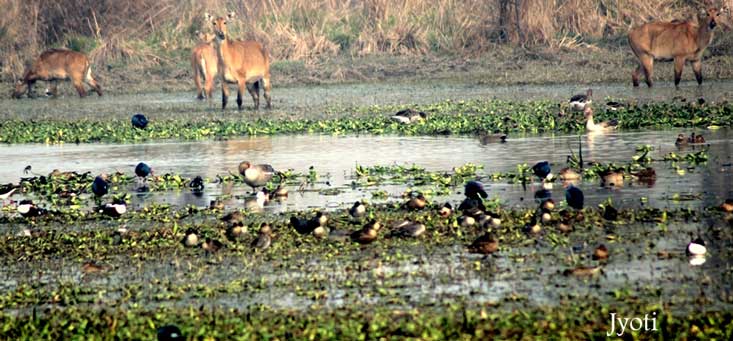 A Quick Checklist
Water bottle
Snacks/fruits
Sport shoes
Cap/hat
Sunglasses (if needed)
Gloves (if cold)
Camera
Binoculars
Birding Book (My pick- 'Birds of India' by Norman Arlott)
Pinning it down
By now you know where to go birding if you too are a fan of Painted Storks or Sarus Cranes. Natural bird sanctuaries or wetlands nearby agricultural lands prove to be a good site to observe your favorite birds from a close distance. While Bird Sanctuaries in Delhi are your immediate preference, these trips offer you a distinct experience. Go get your Camera and Binoculars to experience what this spring can offer you. Also, do not forget to inform us which place you liked the most and why. Let birds spring in your life 🙂