Yamuna Biodiversity Park, for me, proved to be one of the best nature parks in the city of Delhi. Biodiversity is preserved in this park after prolonged research and interventions. Emphasis is given on the Flora with the hope and reason that it will eventually invite Fauna to flourish in the region. One should visit this park to learn about many interesting and less common facts about insects, birds, butterflies, animals, plants, and trees. This park exemplifies how a complete eco-system works.
What is a Biodiversity Park?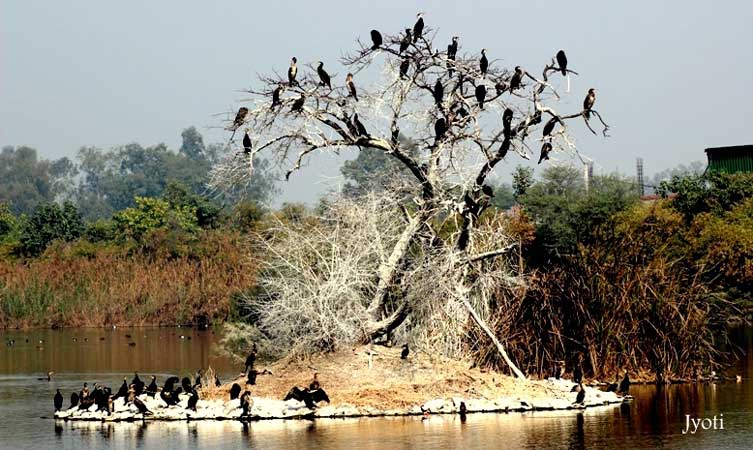 A Biodiversity Park, as the name suggests, includes a variety of living organisms belonging to various ecosystems, be it terrestrial or aquatic. Biodiversity Parks in Delhi are owned and developed by Delhi Development Authority (DDA). Centre for Environmental Management of Degraded Ecosystems (CEMDE), University of Delhi, supports DDA with its technical inputs. The aim is to revive and secure regional biota in several parts of Delhi. On these lines, Yamuna Biodiversity Park and Aravali Biodiversity Park are two of DDA's initiatives.
Yamuna Biodiversity Park: Why You Must Do This less Famous Nature Trail
How to Reach Yamuna Biodiversity Park?
It is located near Sangam Vihar, close to Chauhan Patti-Pushta Road, Delhi-UP border. You can either reach the park by your own car or cab directly or take a bus to Wazirabad and then a rickshaw ride. The distance from Wazirabad bus stand to the Park is around three km. If you wish to take the metro to reach Yamuna Diversity Park nearest metro station is Vishvavidhyalaya on Yellow line, which is around six km away.
Yamuna Biodiversity Park – Timing and Permission
I read many people writing about Yamuna Biodiversity Park on the internet in relation to age-old trees and many local as well as migratory birds. Since I devoted this winter season to birding around Delhi, I did not want to miss this site. Interestingly, there was no clear information on whether and how one can visit the park. Therefore, I called their office situated inside the park.
While talking to the park officials over the phone, I figured out that the site is primarily a nature research center which is open to school children and other such groups with the purpose of creating awareness on the functioning and relevance of eco-system/s. When I expressed my interest in visiting the park as a single birding enthusiast, they suggested me to join one of the two trails that the center runs (either at 10:30 AM or 2:30 PM). The staff also informed me that it takes around two hours to visit the accessible area.
Prior permission over phone or email is a must. If you wish to visit the park during different timings other than the scheduled trails, you have to write to the authorities stating your purpose and nature of the visit. If you get the permission, the staff will assist you accordingly.
Geographical Distribution of the Park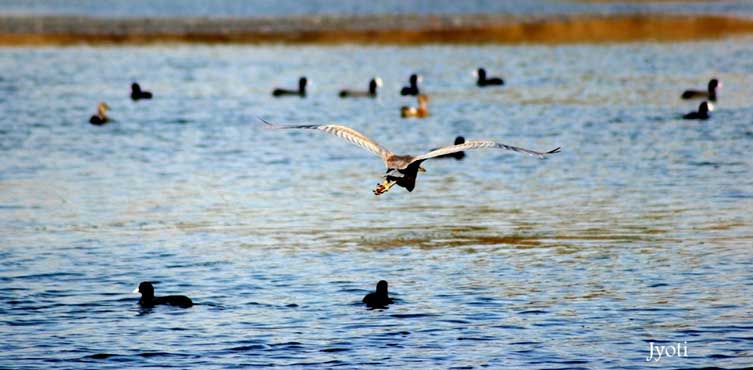 Yamuna Biodiversity Park is one of the many biodiversity parks that DDA has developed and maintained. The aim is to preserve flora and fauna in the region. This park is presently spread across 457 acres of land and has been divided into two zones- visitors' zone and nature reserve zone.
Visitors' zone is again divided into phases- phase one and phase two. There is a gated entry to phase one. Here, a guide gives you a tour of the pre-marked area that they have kept open for outsiders. You can visit the Phase two on your own but only after getting permission from the officials at phase one. It has a separate entry that is about half a km away from phase one.
Our Experience at the Park
The guide, who was sent along with us, was a very enthusiastic and welcoming person. He gave us detailed information about the various varieties of birds, animals, trees, plants, and butterflies along with some scientific research procedures that they follow in this park. He excitingly showed us different varieties of trees namely Chiku, Miswak, Elephant Apple, Acacia nilotika Babul, Natal Plum etc.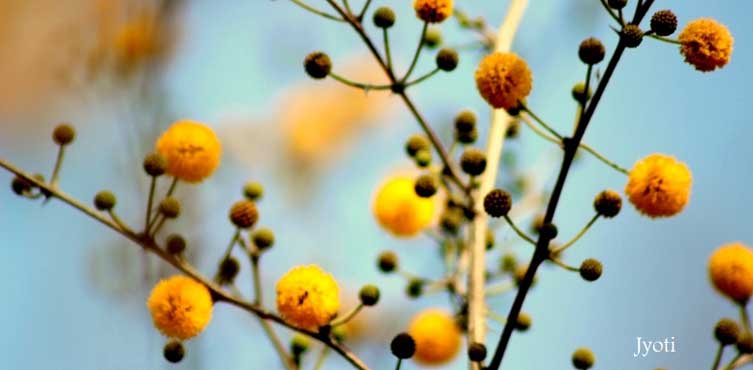 The park has many extinct shrubs and trees which used to be common in Delhi a century ago. I saw the original yellow Brinjal for the first time; it is not edible and only contributes to the development of hybrid edible varieties. Plants like Cotton and Orange, small shrubs, and medicinal grasses are also common in this park. The park makes it a point to never use any insecticides or pesticides on the trees so that the birds can happily eat fruits.
Although we opted for the morning trail, which started at 10:30 AM, it was quite sunny to make birds hide under the trees. Nevertheless, we spotted many birds like Red-whiskered Bulbul, Long-tailed Shrike, Laughing Dove, Painted Stork, Common Coot, Great Cormorant, Spot-billed Duck, Egret, Red-naped Ibis, Common Pochard, and Gadwall.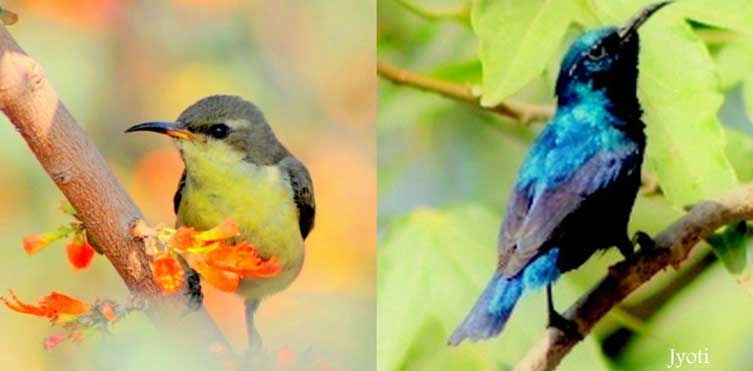 Sunbirds proved their name by being extremely active under the hot scorching sun. We spotted many pairs of Purple sunbirds who were dancing and flying around one tree to the other. For the same reason, it was also difficult to capture their pictures. I got success after trying for about 20 minutes. However, it was a delight to see them hopping and twittering.
Major Learning During the Visit
The importance of research around original (non-hybrid) plant/tree genes;
The concept of 'host plants' and its impact on the population of a given species;
Details of the pollination process and importance of 'male' trees for fruit production;
Nature, lifestyle, and daily routine of many birds and mammals; and
PH factor in the soil and how to balance it with the help of specific plants/grasses.
Fees and Facilities
Yamuna Biodiversity Park's entry fee and camera fee are nil. You only need to take prior permission by clearly stating the purpose of your visit. In fact, the staff invites you to view an introductory movie about the park at the 'Interpretation center' located on the campus. You can watch it if you wish. A guide also accompanies you irrespective of the size of the group. However, it is subject to the availability of personnel.
Contact Information
DDA has given a lot of details about their parks online. Click here to know about Yamuna Biodiversity Park in detail. There's also a map for easy navigation. Call them at 011-65649990 for any queries and taking permission for a visit. You can also email them at ybp@biodiversityparks.org.
My Recommendation
Although the authority considers children and younger generation as its primary clientele, it is a great learning site for whoever wishes to know nature from close. If you like to observe varied species, it is going to be an enriching experience for sure. You get to know about many basic but lesser known facts about flora and fauna. Additionally, the staff at Yamuna Biodiversity Park is very welcoming and helpful. The visit is undoubtedly very different from visiting other Bird Sanctuaries in Delhi. I would certainly recommend this place to all the nature enthusiasts. Do share your views after visiting.
Read More…