Bird Sanctuaries in Delhi became my subject of interest two years back during my first encounter with birds in their natural habitat.
I was on a tour to Odisha with my family.
We had temples on our travel list, however, we had not planned any further itinerary apart from Bhubaneshwar and Puri.
After visiting the most famous and scientifically miraculous Jagannath temple in Puri, we started exploring other nearby sites that we could visit on our week-long trip.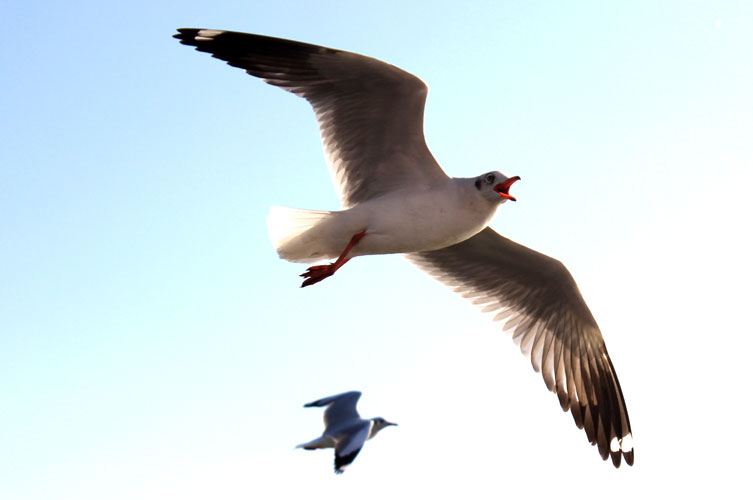 We had no prior information and knowledge when we ended up being in Chilika Lake which hosts one of the biggest bird sanctuaries of India i.e. Nalbana Bird Sanctuary.
It was the month of October, therefore, we could only see local birds.
For the first time, I was consciously hearing the names of some of the common and celebrated birds in India such as Egret, Cormorant, Black Headed Gull, Moorhen, and Heron, and so on.
I am a nature lover and have also been to many National Parks and Wild Life Sanctuaries to see animals.
However, birds never caught my attention until I visited Chillika.
These wonderful creatures got my interest Perhaps because of two reasons.
First, we took a boat ride specifically to see birds, and second, due to the explanations given by enthusiastically expressive guides.
It made such an impression on me that I started searching for bird sanctuaries in Delhi right after coming back from the Odisha trip.
Top Four Bird Sanctuaries in Delhi NCR
Sultanpur Bird Sanctuary
Okhla Bird Sanctuary
Yamuna Biodiversity Park
Asola Bhatti Wildlife Sanctuary
Sultanpur Bird Sanctuary is located in Gurugram, Haryana, and Okhla Bird Sanctuary is situated on Delhi Noida Border.
The access and movement are free in these two. However, Yamuna Biodiversity Park and Asola Bhatti Wildlife Sanctuary organize guided tours that you have to do with dedicated guides.
You may not simply see the latter two as bird sanctuaries in Delhi.
The purpose of these sites is to particularly preserve endangered species of mammals, insects, and trees, and so on.
However, you can find many species of local as well as migratory birds there.
Bird Sanctuaries in Delhi NCR
#1 Sultanpur Bird Sanctuary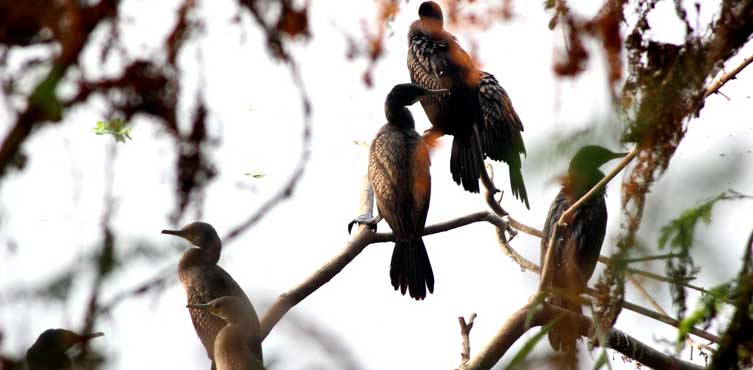 Sultanpur Bird Sanctuary has around 250 bird species out of which more than a hundred species migrate from Siberian, European, and other central Asian countries during winters.
Also known as Sultanpur National Park, this site is located at Gurgaon Farukh Nagar Road. It is around 15 km away from Gurugram city and around 50 km from Delhi.
Since it is away from the city center, it will be a good idea to hire a taxi or go by your personal vehicle. It might be slightly difficult to find your way if you are going in that direction for the first time.
It opens from 7:00 AM up till 4:30 PM. The Entry Fee is Rs. 5 with an additional camera fee of Rs.25. The Park is well maintained with various facilities for visitors including basic amenities, bird-watching equipment, and educational guides like films and books.
There's no specific time duration for the visit so you can walk around, watch birds, enjoy nature and do photography at your own pace.
You can view pictures and read more about my visit to Sultanpur Bird Sanctuary here.
#2 Okhla Bird Sanctuary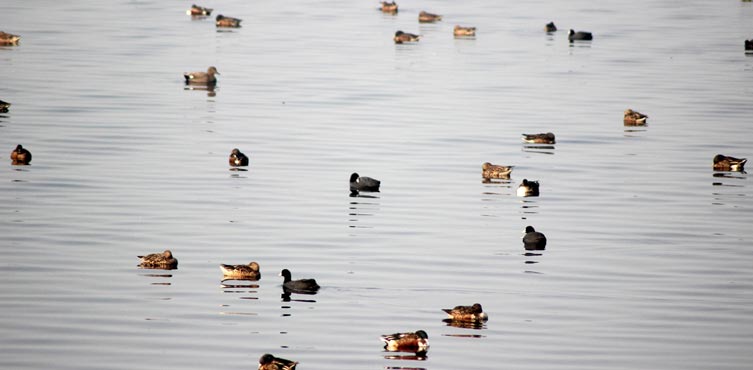 Okhla Bird sanctuary is located on the Delhi Noida border.
It has two entries- one towards Mayur Vihar (gate no.1) right at the entrance of Noida and the other towards Kalindi Kunj (gate no.2).
It offers you a 3.5 km straight track which you can utilize for your morning walks amidst nature.
Before visiting the sanctuary I had the impression that this place must be having a dirty water body, in a dying state with very fewer birds.
To my surprise, it had a huge number and variety of birds, chirping, playing, and flying around. However, the first assumption about water quality was true.
Okhla Bird Sanctuary claims to have around 300 species of both local and migratory birds.
Unlike Sultanpur, where nests made of stubble are spread across the water body, making it difficult to spot the birds, Okhla has a better view.
January is the best time to spot a large number of birds.
The sanctuary is open from 7:00 AM to 5:00 PM during winters.
The ticket fee is Rs.30 per person with no extra fee for the camera (apart from professional photography and videography).
The sanctuary needs proper maintenance.
It is also a subject conflict between UP and Delhi administrative authorities.
Environmentalists also claim that the number of birds has drastically decreased in the last five years.
Nevertheless, it is still one of the best bird sanctuaries in Delhi and every bird lover should visit it.
#3 Yamuna Biodiversity Park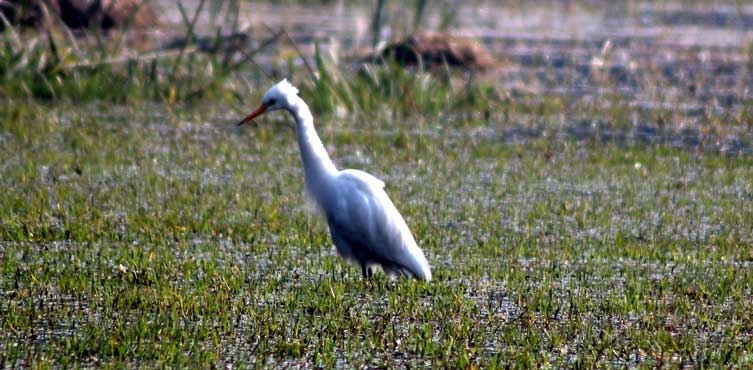 This park is spread across an area of 457 acres (divided into two phases) near Wazirabad Village.
It is recently developed by the Delhi Biodiversity Foundation, DDA for the purpose of conservation and preservation of Eco-systems (Flora and Fauna) of the Yamuna region.
It is planned to function as an alternative habitat for residents and migratory birds around that area.
You need to take prior permission if going in big groups otherwise you can directly go and join their trails at the given timings absolutely free with no extra fee for the camera as well.
It opens quite late as compared to other sanctuaries because of the heavy fog due to dense vegetation, as informed by the officials.
Currently, Yamuna Biodiversity Park organizes two nature trails a day at 10:30 AM and 2:30 PM.
This, in my view, is the best site to start your birding hobby because you will get to know in detail the role of the overall ecosystem and its importance for birds.
For any queries, you can call the park officials here 011-65649990 and visit their site here.
#4 Asola Bhatti Wildlife Sanctuary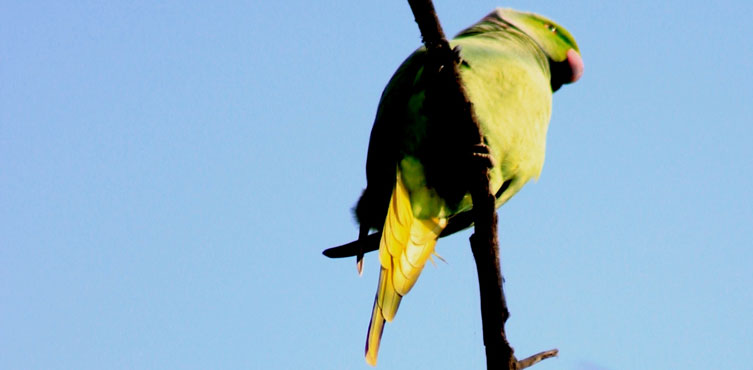 Bombay Natural History Society (BNHS) runs this community-based urban Wildlife Sanctuary for the Department of Forest and Environment, Delhi.
The location of the sanctuary is on the outskirts of Tughlakabad Fort on Dr. Karni Singh Shooting Range.
Along with a variety of trees, butterflies, and animals, one can find around 200 species of birds here.
This sanctuary organizes guided tours and one cannot visit this on his/her own. Therefore, you have to pre-book your visits by calling 08800748967.
Since they give you a dedicated guide, they prefer groups of at least 4-5 people.
The tour timings are 9:30 AM to 11:30 AM and 3:30 PM to5:00 PM. Visiting fee on weekdays i.e.
Monday to Friday is Rs.100 and 350 to 500 on weekends depending on the trail/program you select.
You can check out their programs here. There are no extra charges for the camera.
Resident and Local Migrant Birds Found Across Bird Sanctuaries in Delhi NCR
While there are hundreds of species of resident and local migrant birds that are found across bird sanctuaries in the Delhi and the NCR area, few of them are easily and abundantly found everywhere. These include-
Kingfisher (Common, Great blue, and White-breasted/throated),
White-breasted Waterhen,
Purple Swamphen,
Common Moorhen,
Red-Wattled Lapwing,
Ruddy Shelduck,
Black-headed Ibis,
Indian spot-billed duck,
Lesser Whistling Duck,
Egret (Intermediate, Cattle, and Great),
little cormorant,
Heron (Purple, Grey and Indian pond heron),
Indian Darter,
Rose-ringed Parakeet,
Jungle Babbler,
Eurasian Magpie,
Prinia,
Black Drongo,
Bulbul,
Greater Coucal,
Peacock and so on.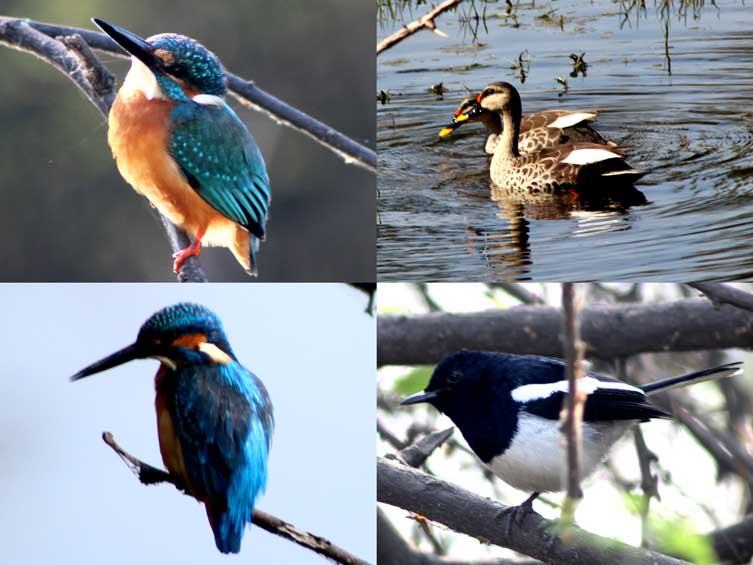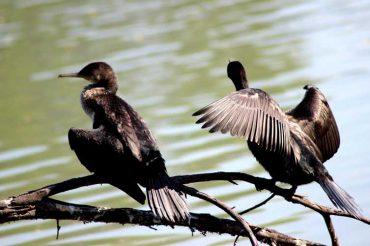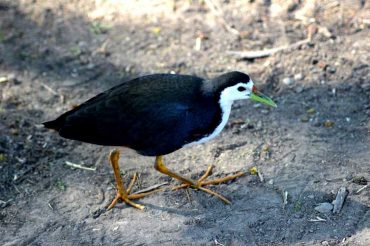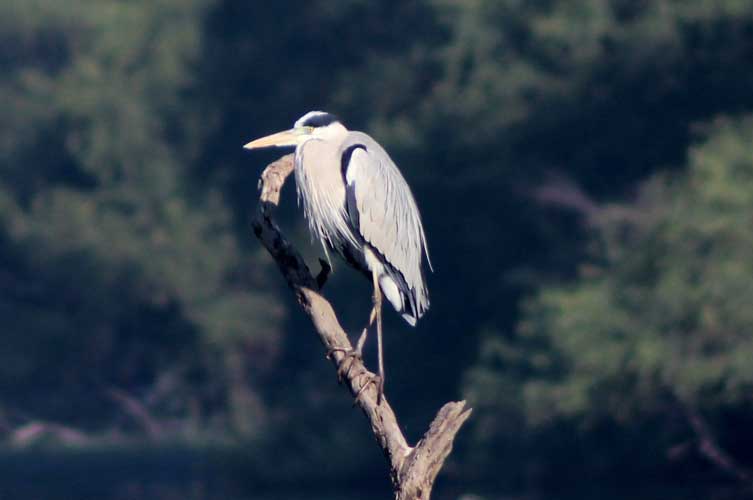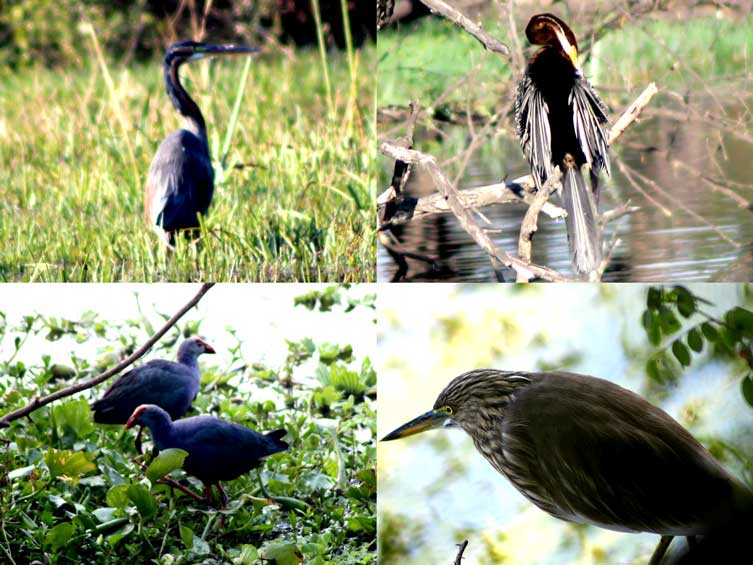 Migratory Birds Found at Bird Sanctuaries in Delhi NCR
Migratory birds are a major attraction for bird lovers. The fact that these tiny creatures fly so long to find a habitat is in itself fascinating. Some of the migratory birds include-
Common Teal,
Northern Shoveler,
Common Coot,
Gadwall,
Common Shelduck,
Tufted Duck,
Greylag Goose,
Common Pochard,
Flycatchers and so on.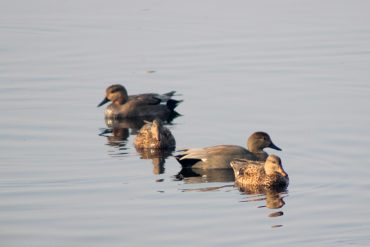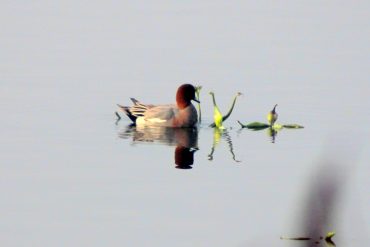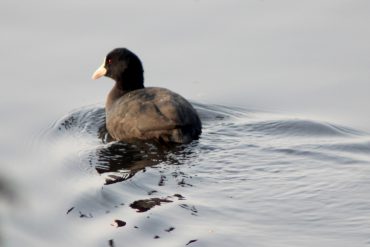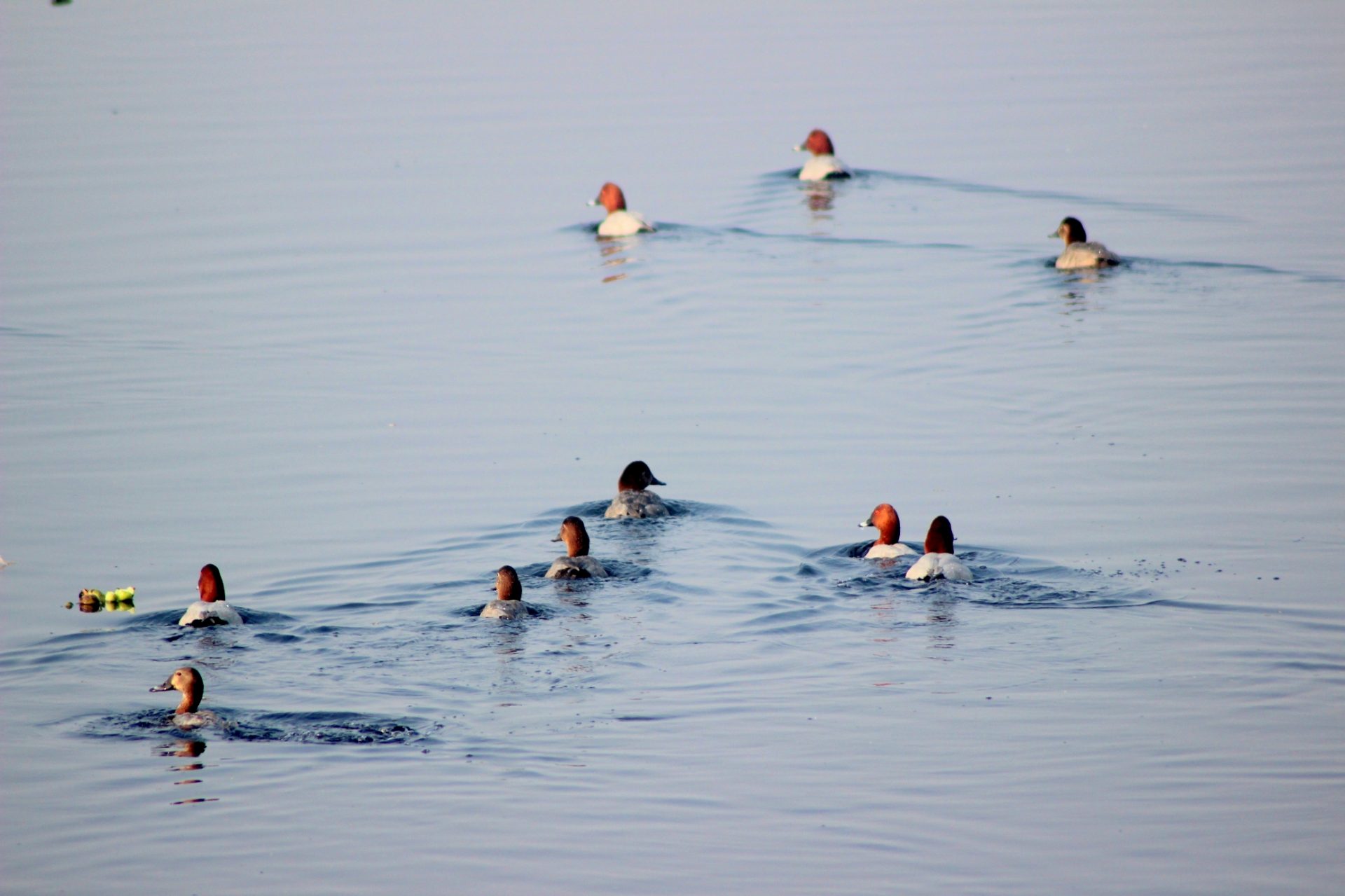 Things to Remember
Although visiting a bird sanctuary requires nothing more than an interest in nature and birds, it will be good if you go slightly prepared to get the best of experience.
Knowing that you might need to walk more than usual, it is recommended to wear a pair of comfortable shoes.
The best time to visit any bird sanctuary is the earliest hours. Given that walking might make you hungry. Have a good breakfast before beginning the visit.
Early hours are quite cold in winters so be well clad.
A water bottle will help in keeping you hydrated.
Don't forget to carry your pair of binoculars if you own them. It's okay if you don't.
Get your camera ready with a zoom/macro lens.
Carry an umbrella if there are chances of rain.
If you want to see birds from close, do not make any noise; avoid talking.
More Birding Options in and around Delhi
My interest in birds is new and I learn during each visit. It is no less than a blessing for me to have so many bird sanctuaries in Delhi NCR.
Therefore, I do not really require to travel long for Birding. During winters, migratory birds coming from other parts of the country and the world join local resident birds.
The site in bird sanctuaries during winters is heavenly for any bird lover. So, get your camera and binoculars ready and go bird-watching.
There are other comparatively lesser-known places which you can also explore namely Sanjay Lake, Roshanara Bagh, Lodhi Gardens, Aravali Biodiversity Park, and so on.
After your free basic orientation at Yamuna Biodiversity Park, I would recommend you start your birding at Okhla Bird Sanctuary.
Although the number of birds is decreasing here due to various reasons, it still has a good variety of migratory birds which are easy to cite as well. The site that it offers, no other sanctuary does.
If you are open to traveling a bit, you can also plan a visit to the following nearby Sanctuaries-
Basai Wetland, Gurugram, Haryana
Bharatpur Bird Sanctuary (or Keoladeo National Park), Bharatpur
Dighal, Bahadurgarh, Haryana
KG Wetlands, Palwal, Haryana
Surajpur Wetland and Biodiversity Park, Greater Noida, Uttar Pradesh
Summing it up
I have written this article specifically for budding bird watchers. However, I would appreciate feedback and comments from the experts as well.
Please share your expressions on birding as your passion and bird sanctuaries around your area.
Which birds do you like? Which is your favorite birding place?
Do you have any questions related to birding?
Please feel free to post your experiences and inquiries in the comments section below.
Also, if you wish to bring nature close to you, you might wish to read tips for budding gardeners and flower plants that you should get home this winter.
Happy Winters!!!